Genealogy Laboratory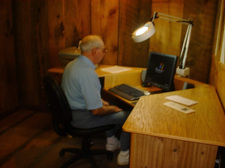 Gerald A. Yoder, at the genealogy computer.
Donated by Gerald and the late Pauline Yoder of Woodbury, PA, the lab is located on the second floor of the Yoder House. The lab contains a computer, printer, scanner, network hub and a desk crafted by Gerald Yoder and Karl Kaufman (husband of Rena Yoder).
The genealogy software used on the computer is the Master Genealogist. This program will import directly from Family Gathering, Family Origins, Family Tree Maker, GEDCOM, Generations, Legacy, PAF, Roots IV and Roots V, Ultimate Family Tree and Visual Roots.
Nearly 2,500 Joders/Yoders have been entered into the program though nearly 600 remain unlinked to their family. With your help, we can connect the lines, record and archive all Yoder family trees so that the information is readily available for you and future generations.
Contribute new data, link some of the existing names or use the data for your own genealogy project!
Bring your Laptop when you visit!

A hub allows 4 connections to the computer. Bring your network capable laptop to access the genealogy data already collected. You may search existing data or add to it.
Contribute Yoder History

Forward your Yoder family history via email or snail mail for the database. We accept CD's, floppy disks and hard copy. Please include return postage if you require a return of the media.
FOR SALE!
"PILGRIMAGE OF FAITH; THE YODERS IN SWITZERLAND AND AMERICA FROM ST. JODER TO YOST YODER AND BEYOND"
Virgil Yoder's photos and inspiring story of our Yoder Heritage have been a centerpiece at national Yoder gatherings since 1994. We are pleased to announce that it is now available on DVD, approximately 45 minutes in length.
Hold your own Yoder family reunion, large or small, any place around the world and make this the cornerstone of your program.
Own your copy of this family treasure for $25.(shipping included). Send a check or money order (USD only) with your shipping address to:
Virgil E. Yoder
110 Northumberland Road
Irwin, PA 15642-3231
USA
If you have any questions, write Virgil at :VEYoder@aol.com


---