Visit Us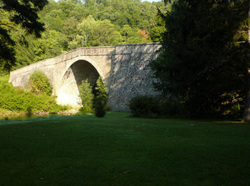 Casselman River Bridge State Park
The Western Maryland mountain region is a perfect setting for a day trip or an extended vacation.
Experience first-hand the architecture of the early Swiss Yoder settlers in America, see our extensive collection of artifacts and speak with our knowledgeable hosts about Yoder history.
The Yoder House is open to the public during the summer months (May through October), or by appointment. Located 1/4 mile east of Grantsville, MD on atlernate Route 40, the House is located adjacent to the Penn Alps Restaurant and the Spruce Forest Artisan Village , along with the Casselman River Bridge State Park next door. Please contact us by calling 814-267-3383 to arrange tours for groups or for non-season entry.
---
Join Us
Join The House of Yoder organization. Membership supports the ongoing work and maintenance of the Yoder House. You will receive The House of Yoder Newsletter and members are entitled to attend and vote at the Annual Members Meeting, held the first Saturday in November at the Yoder House in Grantsville, MD.
The House of Yoder, Inc.

Type 1 Year 5 Year Lifetime
Individual l $25.00 l $100.00 l $1,000.00
Couple l $35.00 l $150.00 l $1,500.00

Make check or money order payable, in US currency, to The House of Yoder, Inc., and mail to:
The House of Yoder, Inc.
P.O. Box 813
Grantsville, MD 21536



Participate
The House of Yoder has a Hosting Program from the last weekend in May until the last weekend in October. Hundreds of interested people visit the Spruce Forest Artisan Village and The Yoder House. Many artisans demonstrate the way things used to be done. It is like a walk into history. The four story Yoder House was built on the premises for the purpose of showing the feature of how houses were built in Switzerland in the period of 1700 to 1750, and to what life was like. Visitors from all over the United States and internationally, marvel at the simplicity and durability of the structure. In the Yoder House, hosts are glad to show the features of the structure, with its massive fireplace, its draw string latch, its "round the corner stairway", the stone-arched root cellar, the smoke house, the genealogy center, the "pouring stone", and many more interesting features. The Yoder House furnishes a fully equipped apartment for our hosts. After a day of hosting The House, you walk down the steps to the apartment. A kitchen, queen size bed, a single-blow-up air mattress, a reading area and bathroom completes the apartment. A small shopping center, grocery store, hardware store, fruit market, auto parts store, fast food restaurants, plus an ice cream station are located within a 2 mile area. If you would be interested in becoming a host, contact Mayla H. Yoder at the above address.