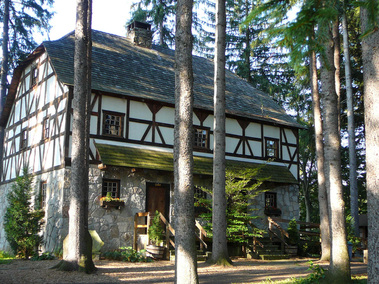 The House of Yoder
Nestled in the mountains of Western Maryland, The Yoder House is a living history museum. The House of Yoder, Inc,, a non-profit corporation, was formed in 1995 by members of the Yoder family determined to promote awareness and appreciation of the Yoder heritage from Europe and the United States. The purposes are stated in our constitution.
Our major project has been the construction of the Yoder House, located in the Spruce Forest Artisan Village in Grantsville, Maryland. The house is modeled after the homes built in the mid-1700s by Yoder immigrants from Switzerland.
Inside the Yoder House you can view an excellent presentation of Yoder history in Europe, view our large collection of period artifacts and research or contribute to European Yoder genealogy which is stored in the Genealogy Lab on the second floor.
The House is open to visitors from the last week in May until the last week in October. "Hosts" show the visitors through the House. A fully equipped apartment, for use by our hosts, is in the lower level of the House.
Click here to learn how to become a host.
You're very welcome to come visit us! We are located at 10411 National Pike (Alternate Route 40), Grantsville, MD 21536.
---